Pediatric Subacute Unit
A Place Where Special Children Feel at Home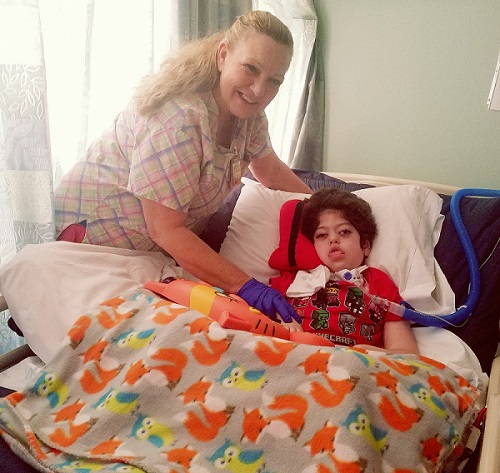 The pediatric subacute unit at Foothill Regional Medical Center offers a compassionate, loving environment combined with advanced medical care for children who are too ill or technologically dependent to receive care at home.
Our 5-star government-rated unit is one of only 10 pediatric subacute programs in California, our 42-bed unit is the largest such program in Orange County. It's also the only hospital-based pediatric subacute program serving Orange County. Because the pediatric subacute unit is an integral part of our acute care hospital, we can offer our patients access to high-level medical care and other ancillary healthcare services, such as lab work and X-rays on-site.
Nearly all the children we care for have severe neurological problems that they were either born with or that resulted from traumatic injury or illness. Every patient in the unit requires a tracheostomy to breathe and a feeding tube for nutrition. Many also need a ventilator to assist them with breathing. Respiratory therapists are available on the unit 24 hours a day.
The Foothill Regional Pediatric Subacute Unit is certified by the Joint Commission, the nation's leading accreditation entity for U.S. healthcare organizations.
Diagnoses and Treatments
We care for children who are medically fragile and need 24-hour care. Conditions they experience include complications due to premature birth, congenital disease, developmental disabilities, head injuries, neurological and muscular disorders, and respiratory disease.
Medical Director Gilbert Umnas, MD, is a highly experienced, board-certified pediatrician. All the attending physicians in the unit are also pediatricians. Additionally, physicians are available on-site 24/7 in case of emergencies.
Our highly dedicated staff of registered nurses, licensed vocational nurses and certified nursing assistants provides loving, compassionate care 24/7. Additionally, respiratory therapists are available in the unit around the clock to help meet the needs of the children, all of whom require a tracheostomy to breathe and a feeding tube for nutrition. Most also require ventilator support.
We also have a team of experienced rehabilitation specialists who provide our patients occupational therapy, physical therapy and speech therapy.
Importantly, because the pediatric subacute unit is located within Foothill Regional Medical Center, a general acute care hospital, we are able to provide diagnostic services such as lab work and X-rays, as well as other routine medical care, right here on-site. This means that our medically fragile patients do not have to leave our campus to have these services performed. And, in general, we can provide the results of these diagnostic tests more quickly.
Our Facility
Since opening in 2000, the pediatric subacute unit has offered a special place of caring and compassion for young patients and their families.
The unit itself is bright and airy. Vividly painted walls depicting an Italian countryside and the muted sounds of cartoons playing in the background add an air of lightness to what is an otherwise serious undertaking: caring for chronically ill children 24 hours a day. The bond between nurses and patients is evident everywhere.
Patients are encouraged to do crafts and other age-appropriate tactile activities. A teacher from the Tustin Unified School District comes to the hospital regularly to provide instruction to children who are unable to attend school.
Visiting Hours
Families are welcome to visit whenever they are able.
Contact Us
If you have any questions about our pediatric subacute unit, please email or call (714) 619-7700. We are conveniently located in Tustin on Newport Avenue between the 5 and 55 freeways. Our address is 14662 Newport Avenue.
"Everyone who cares for the children at Foothill Regional treats them like they were their own kids. That means everything to us as parents. You can see the love. I'm so grateful that they take such good care of my son."
– Mother of one of the patients