Pediatric Subacute Unit Offers Chronically Ill Children Combination of Excellent Care – and Love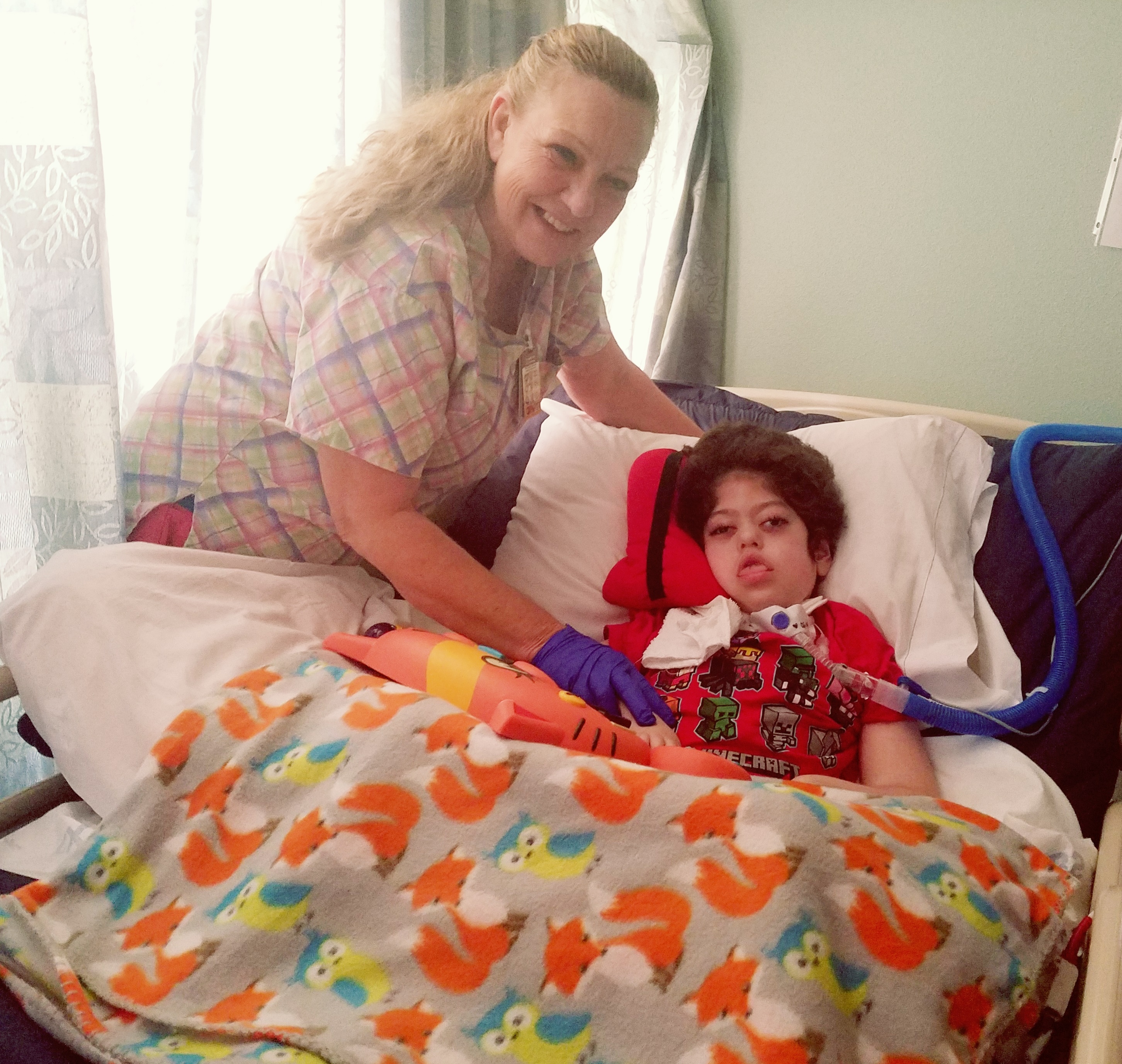 The vividly painted walls depicting an Italian countryside and the muted sounds of cartoons playing in the background add an air of lightness to what is an otherwise serious undertaking: caring for chronically ill children 24 hours a day.
Foothill Regional Medical Center in Tustin houses one of only eight pediatric subacute programs in California and the only hospital-based program serving Orange County.
Five-year-old Junior Reyes is one of the program's patients. He was born with a rare neurological condition that affects all his muscles, including his breathing. His mother Loris chose the pediatric subacute unit at Foothill Regional for her son because "everyone who cares for the children there treats them like they were their own kids.
"That means everything to us as parents," she continued. "You can see the love. I'm so grateful that they take such good care of my son."
The bond between nurses and patients is everywhere. In one room, a toddler is listening to a nurse's heartbeat with his stethoscope, giggling uncontrollably. In the hallway, a family is about to take their son for a wheelchair stroll around the hospital campus, but first his nurse stops them to adjust the blanket on his lap and tenderly squeeze his hand.
"Most of these kids can't talk or move, so we try to anticipate their every need," said Jackie Peterson, who has worked on the unit as a vocational nurse for 11 years. "We get very close to the families; we understand what they're going through."
For almost 18 years, the Foothill Regional pediatric subacute unit has offered a compassionate, loving environment combined with advanced medical care for chronically ill children, nearly all of whom have severe neurological problems that they were either born with or that resulted from traumatic injury. Every patient in the 42-bed unit requires a tracheostomy to breathe and a feeding tube for nutrition. Many also need a ventilator to assist them with breathing. Respiratory therapists are available on the unit 24 hours a day.
The program recently received certification from the Joint Commission, the nation's leading accreditation entity for U.S. healthcare organizations.
"Our Joint Commission certification is an affirmation of the excellent level of care that we provide and the high clinical standards we maintain for these precious children," said Araceli Lonergan, CEO of Foothill Regional Medical Center. "Because the pediatric subacute unit is an integral part of an acute care hospital, we're able to offer our patients access to high-level medical care and other ancillary healthcare services, such as lab work and X-rays, right here on-site."
For Reyes, that makes a big difference. "It's amazing to have all these services right here," she said. "You don't have to wait hours for results like you have to do at other facilities."
As important as the outstanding medical services provided by the unit is the compassionate care offered by the staff of specially trained physicians, nurses, and other caregivers. "It takes a special person to work here," said Donna McAlmond, interim program director. "Our nurses get very attached to our patients. They really do care for these kids as much as the parents do."