Congresswoman Kim's Senior Resource Fair Includes Foothill Regional Medical Center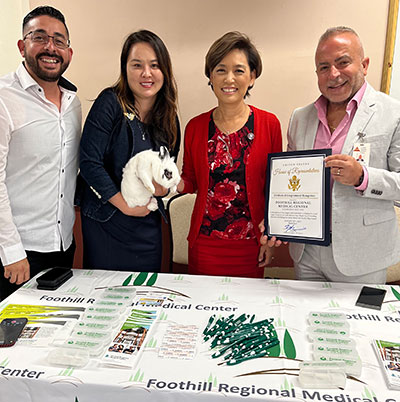 (from l to r) Gerado Oviedo, Director Business Development, Alta Hospitals; Eva Zhoe, third vice president, Pat Nixon Republican Women Federated; Congresswoman Young Kim; Ziad Bouslaiby, Healthcare Coordinator, Alta Hospitals
Foothill Regional Medical Center joined U.S. Representative Young Kim (CA-40) who hosted a Senior Resource Fair at the Orange Senior Center Aug. 18. The event connected local vendors including Centers for Medicare & Medicaid Services, Alzheimer's Orange County, VA Long Beach Health Care, and more. More than 200 seniors from the local community participated in the fair.
Congresswoman Kim recognized the vendor partners with the U.S. House of Representatives Certificate of Congressional Recognition for supporting their communities. Kim shared about of the many congressional initiatives she is working on for the community, addressing Medicare late enrollment penalties, Social Security, cybercrimes and scams, Veterans Affairs benefits, and how her team is working on policies to take back to Washington D.C. to help enhance the lives of Orange County community members.
"We are thrilled to be a part of this Senior Resource Fair and speak with seniors about their healthcare concerns and how we can support their healthcare needs," said CEO Araceli Lonergan, Foothill Regional.
To learn more about congressional initiatives, community members may contact Rep. Young Kim by email or call (714) 984-2440.
To learn more about how Foothill Regional's programs and services for seniors, call (714) 619-7700.