Local Police Spread Cheer to Hospital's Pediatric Patients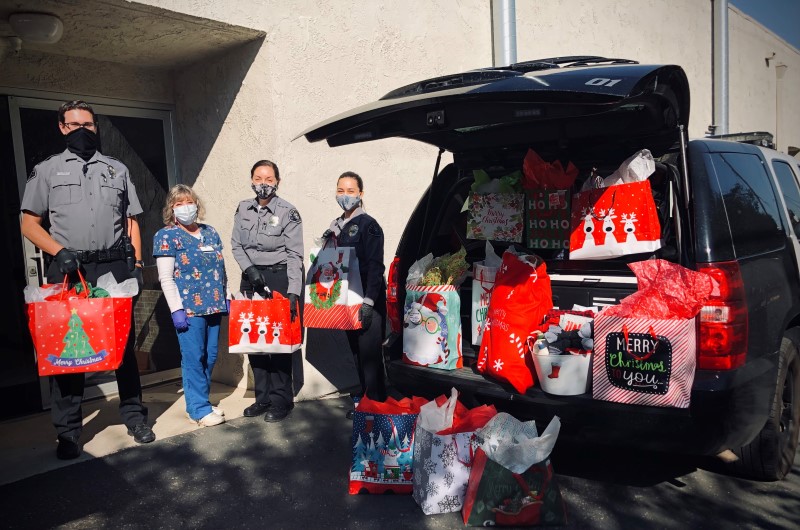 Pediatric subacute patients at Foothill Regional Medical Center received a surprise when the Tustin Police Department made its 19th annual holiday visit, dropping off gifts for patients and staff.
Of course, the visit looked a little different this year due to the coronavirus pandemic. For the past 19 years, police department employees have made sure the pediatric subacute patients received Christmas presents and holiday cheer. In the past, the police's community relations unit (CRU), along with Santa, would personally drop off gifts to every patient. This year presented some challenges. Tustin police personnel were unable to make their traditional rounds with Santa Claus in person to deliver gifts to the children in their rooms.
"Despite the limitations of the gift-giving, our pediatric patients were delighted," said hospital CEO Araceli Lonergan.
"It was quite a change from the previous years, but we are so happy we were still able to give to the children," said Sgt. Sarah Fetterling, of the CRU. "We're so sad that we couldn't bring the kids Santa to visit this year, but we are very appreciative that we were still able to bring them gifts."
The CRU staff also dropped of gift baskets for the nurses, which contained goodies such as Ghirardelli chocolate, hot cocoa, and Hershey's kisses.
"The nurses are the true heroes here and we wanted them to know we appreciate them, too," Fetterling added.