Police Deliver Holiday Gifts to Foothill Regional Medical Center's Pediatric Subacute Care Unit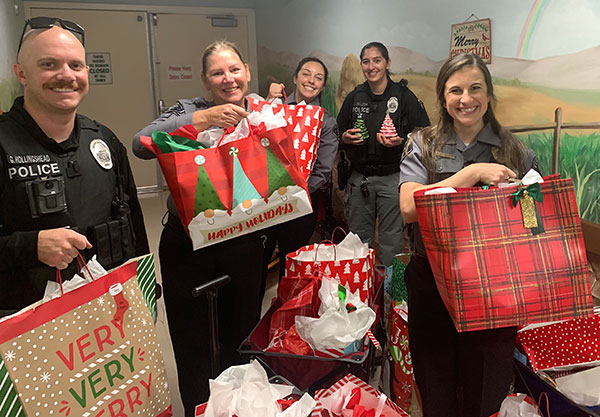 (left to right) Tustin Police Department's officer Glenn Hollingshead, commander Patricia Thomas, police services officer Jennifer Jones, officer Jasemine Deleon, officer Brianna Lardgraf


Foothill Regional Medical Center's Pediatric Subacute Care Unit got a visit from the Tustin Police Department in December, carrying on a 21-year-old tradition.
Students on the unit, who suffer from severe ailments ranging from congenital defects to severe head and brain trauma, greeted five members of the department who were toting wagons laden with gifts.
"It's important to give back to the community and to support these special patients to help make their lives just a bit brighter," said police services officer Jennifer Jones. "We are thrilled to say Merry Christmas to these kids and see them smile."

The police department is celebrating over two decades of visits to Foothill Regional's pediatric subacute unit, where children and families made wish lists of things they'd love to get for Christmas, and a note sharing a bit about themselves. Teams of employees at the police department selected a child they'd like to personally shop for. The gift bags they compiled include toys, personalized clothing, blankets, books, hypoallergenic lotions, and more.
A vintage lighted Christmas tree and card was also placed on each child's nightstand , and a nurse appreciation kit filled with Starbucks coffee and other personal items was also shared.
,
"We are honored that the Tustin Police Departments is so committed to bringing Christmas joy to the children here," said Foothill Regional Medical Center CEO Araceli Lonergan.

The 5-star government rated pediatric subacute unit at Foothill Regional, the largest in Orange County and one of only 10 pediatric subacute programs in California, is also the only hospital based-pediatric subacute program serving Orange County, meaning onsite emergency department, diagnostic services, lab, and pharmacy are all on site.

The unit provides compassionate care for children who are medically fragile and require 24-hour care. Some patients come from across the country, and nearly all the children have severe neurological problems they were either born with or that resulted from traumatic injury or illness.

Patients are encouraged to do crafts and other tactile activities, with teachers from the Tustin Unified School District providing instruction to children unable to attend school. Families are welcome to participate in all activities.

Though caring for chronically ill children is a serious undertaking, the staff are upbeat and the unit itself is bright and cheerful with walls covered in murals of farm animals and beautiful scenery. The wagons of Christmas gifts are icing on the cake this holiday season.