Weekly Facebook Live Show with Dr. Gonzalez Provides Interactive Medical News and Updates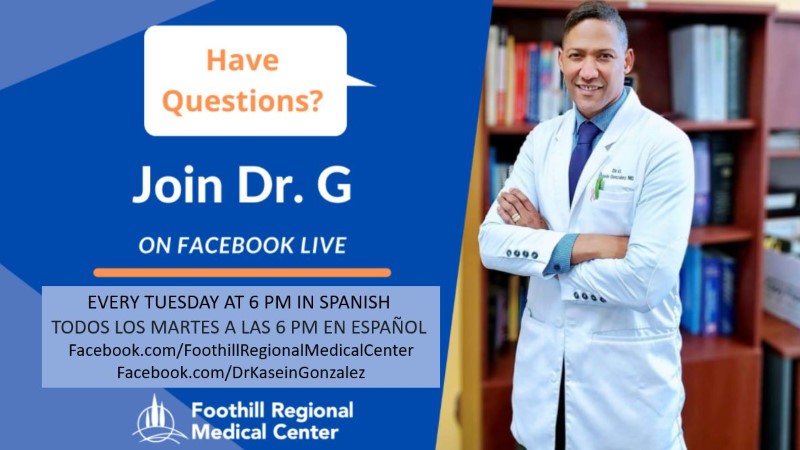 Watch Live on Tuesdays at 6 p.m. on Foothill's Facebook or Dr. G's Facebook pages.
Foothill Regional Medical Center has partnered with Dr. Kasein Gonzalez who hosts one of the most popular Spanish-speaking, healthcare-specific Facebook live broadcasts in Southern California. Sponsoring a weekly broadcast on Tuesdays at 6 p.m. He regularly interviews Foothill Regional doctors on various topics.
"A large number of our staff and patients are Latino, so we thought this was an excellent opportunity to reach out to this population in conjunction with our own doctors," said hospital CEO Araceli Lonergan. "Our goal is to bring more awareness to our Hispanic community about the services we provide here in Orange County."
"My passion is medicine but much more is my desire to help our community," said Dr. Gonzalez. "Every day we do our best to provide the best to our patients, followers and families."
More than a quarter of a million people follow Dr. Gonzalez, or Dr. G as he is popularly known, on Facebook and his live streams often thousands of comments. He also appears regularly on Univision.
Dr. Kasein Gonzalez is a board-certified physician with more than 20 years of experience. He received his medical degree from Instituto Superior de Ciencias Medicas de la Habana, and completed his residency at Harbor-UCLA Medical Center.
To watch the weekly interactive live Facebook streams on Tuesdays at 6 p.m., visit Dr. G's Facebook page or our Facebook page. All broadcasts are recorded and posted for watching at your convenience.
El Programa Semanal en Vivo de Facebook con el Dr. González Brinda Noticias y Actualizaciones Médicas Interactivas
Foothill Regional Medical Center se ha asociado con el Dr. Kasein González, quien presenta una de las transmisiones en vivo de Facebook específicas de atención médica más populares de habla hispana en el sur de California. Patrocina una transmisión semanal los martes a las 6 p.m. Él entrevista regularmente a los médicos de Foothill Regional sobre varios temas.
"Una gran parte de nuestro personal y pacientes son latinos, por lo que pensamos que esta era una excelente oportunidad para llegar a esta población junto con nuestros propios medicos," dijo la directora ejecutiva del hospital, Araceli Lonergan. "Nuestro objectivo es crear más conciencia en nuestra comunidad hispana sobre los servicios que brindamos aquí en el condado del Orange."
Comunidad hispana sobre los servicios que brindamos aquí en el condado de Orange."
"Mi pasión es la medicina, pero mucho más es mi deseo de ayudar a nuestra comunidad," dijo el Dr. González. "Todos los días hacemos nuestro mejor esfuerzo para brindar lo mejor a nuestros pacientes, seguidores y familias."
Más de un cuarto de millón de personas siguen al Dr. González, o al Dr. G, como se le conoce popularmente, en Facebook y sus transmisiones en vivo a menudo miles de comentarios. También aparece regularmente en Univision.
El Dr. Kasein González es un médico certificado por la junta de medicina familiar con más de 20 años de experiencia. Recibió su título de médico del Instituto Superior de Ciencias Médicas de la Habana y completó su residencia en Harbor-UCLA Medical Center.
Para ver las transmisiones semanales interactivas de Facebook en vivo los martes a las 6 p.m., visite la página de Facebook del Dr. G o nuestra página de Facebook. Todas las transmisiones se graban y publican para verlas cuando lo desee.